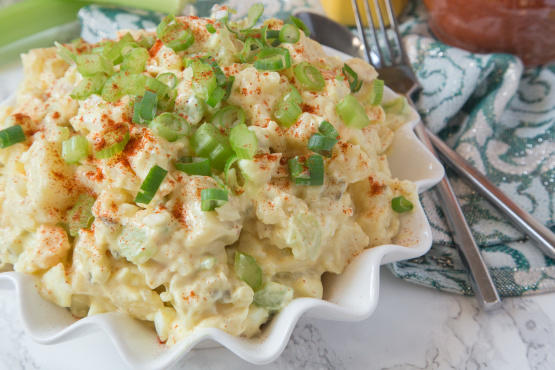 You guessed it.....this isn't my photo (thank you PanNan at Food.com!)
There are a couple of things I tend to make off of the cuff, no recipe. Potato salad is one of those. But the last few times I made it, it just wasn't great. So I decided I must have slipped off the track somewhere along the way and needed to regroup with a real recipe. We like mustard in our PS so that's where I started. And I actually ended up making the first one I found.
To me this is the quintessential mustard potato salad. Perfect. Although what I've made before has basically the same components, I missed a few of the steps. One is to let the potatoes cool completely before cutting to keep them from turning to mush (I baked russets this time because I already had the oven on.....sometimes I boil them). Also, I tend to like onions and celery diced large....this time I cut them much smaller as instructed. Much better. And I usually use a mixture of regular and lo-fat mayo, but I didn't have any lo-fat so I just used a little less regular mayo of the instructed amount (the person who submitted the recipe prefers Miracle Whip, I prefer Hellman's). I also scaled back the recipe to make enough for just two (that won't happen again! I need leftovers).
I have learned my lesson. I'll be sticking to a (meaning this) recipe from now on.
CLASSIC MUSTARD POTATO SALAD (16-20 servings)
8 cups russet potatoes, cooked, peeled, then diced (about 10-12 medium potatoes)
6 eggs, hard-boiled and finely crumbled
2 cups sweet onions, very finely diced
1 cup celery, peeled and very finely diced
3/4 cup dill pickle, very finely sliced (I used hamburger chips)
1 1/2 cup mayo or Miracle Whip
2 Tbsp prepared yellow mustard
Boil the potatoes in the skin along with the eggs. Remove the eggs after 10 minutes of boiling. Remove the potatoes when fork-tender.
Let eggs and potatoes cool to room temperature. Peel all and refrigerate whole potatoes and eggs until cold (the potatoes will diced and hold up better if starting cold). Dice potatoes and put in a large container. Crumble the eggs and add to the potatoes.
Very finely (like the size of dill pickle relish pieces) chop onion, celery, and pickles. (Reserve a bit of this mixture to garnish, if desired.) Add to the potatoes and eggs. Gently stir to mix the ingredients evenly.
In a separate bowl, the mayo (or MW), mustard, pickle juice, cream, salt, pepper, and sugar. Whisk until creamy.
Gently stir until the potato mixture is coated with the creamy mixture. Cover and refrigerate for at least 4 hours (6-8 hours is better). Before serving, sprinkle paprika and reserved onions, celery, and pickles on top if desired.